For Your Information | Donations | Volunteers | Prayer and Bible Study | Sunday School | Outreach | Acts of Kindness
The Seasons of Advent, Christmas and Epiphany | The Feast of Saint Nicholas
St. Peters' News
Several church members recently attended a Religious Institutions Security Training course sponsored by the Virginia Beach Police Department's Community Liaison Office. This was a role-playing scenario-based training to help churches prepare for a variety of possible emergency situations, all of which have actually occurred in our area. Below is a photo of the training team who conducted this training.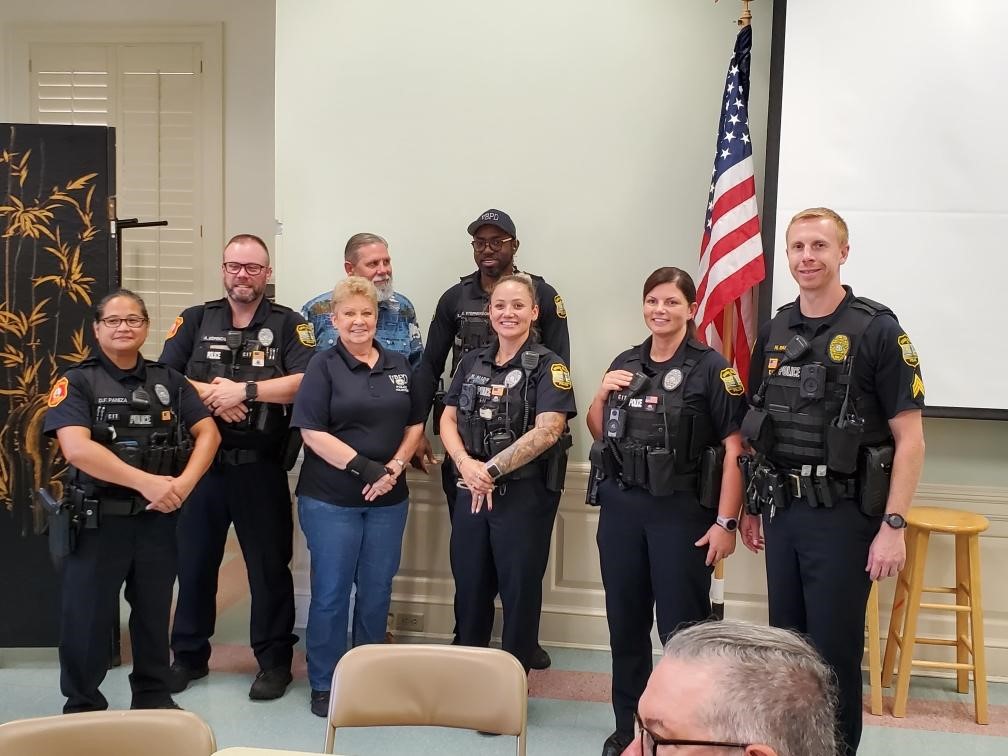 We are in need of Sunday School teachers, nursery attendants, and adults, to help with our Children's Chapel worship service. If interested, please contact Linsey Shreve at 581-1123, Yvonne Authement at 547-3049 or Wendy Glaeser at 548-2728. Thank-you!
Chanco on the James
Chanco on the James is our diocesan camp and conference center and is situated on the James River in Surry, Virginia. Chanco is a fully accredited camp operating continuously for over 40 years providing youth opportunities for individual challenges, personal growth and lifetime friendships in God's great outdoors. Space is still available for youth ages 8-18 in all camp sessions.
For more information, visit http://www.stpeters-norfolk.org/camp_chanco.html, or for easy online registration, visit http://www.chanco.org today or call 1-888-7CHANCO and sign your child up for the summer experience of a lifetime!
St. Peter's Lunch Bunch
The women of St. Peter's meet monthly for fellowship. They are always looking for new members.
The next meeting of the Ladies' Lunch Bunch will be Monday, December 12th at 12:30
at Macaroni Grill, 4574 Virginia Beach Blvd., Pembroke, Virginia Beach.

There is a sign up list in the parish hall. Sign up today!
For more information contact Millie Coward at 455-5887 or email m.jlc@verizon.net.